Date: Sunday-Monday 5th-6th April 2015
Distance: 15.4 + 10.2km
Ascent: 1000 + 0m
A frustrating start to the Easter weekend – we were full of hope for a NW highlands high camping trip but the forecast was tripe. With Friday and Saturday having been below par we decided to head for the best chance of sunshine in the SE rather than gamble on inversion elsewhere.
A high camp somewhere in Angus has been on the to-do list for a while so we parked up at Auchavan at 0830 in beautiful spring sunshine with a plan to head up Monega Hill and round Caenlochan Glen to pitch up high on Mayar.
We've visited Glen Isla a few times, but never quite had the forecast promised. This time we did.
A proper spring-like day, warm, sunny and still. The birds have burst into full song from the quiet of March and the frogs were everywhere. Could feel my batteries recharging just being out in it. 😉
Newt on the commute:

Glen Isla is a huge glacial glen which divides at it's head into the very dramatic glens of Canness and Caenlochan. Well worth a visit and not best perceived from the usual munro routes.
Just over 1km north of Tuchan Lodge there's a signpost indicating the route up Monega Hill. Best ignore this and follow the road over the Glas Burn and head uphill just past this.
Canness Glen:

A steady plod up Monega Hill – camping packs plus winter gear mean a bit of a plowter. The Lawers Group and Ben Vorlich/Stuc a Chroin popped up white over the surrounding hills:

Easy ambling up Monega Hill:

Stopped at the top of Monega Hill for a bite to eat – a grandstand for Canness Glen:

Headed on towards Little Glas Maol:

Despite the doomladen warnings of the hill safety police the snow cover was depressingly soft. Ice axes and crampons were dead weight (even the "grannystopper" microspikes were unneeded). 

Told you so indicated the piebald hill hare:

Arrived at the top of Glas Maol – a rather fine view to the Cairngorms and even across to Blackmount.
Braeriach, Macdui and assorted 'Gorms:

The hares were not for moving fast – not out of winter gear in the warm sunshine must be quite hot.

Left Glas Maol and headed towards Carn of Claise – a decent view of Monega Hill from here:

'Gorms looked rather appetising:

Skirted past the munro summit to head out to Druim Mor. We've been meaning to visit this for a while. Bypassed a few times on claggier days it seemed a great day to have a look at the view.
The hares were playing hare chess on the snow patches:

Arrived at the summit of Druim Mor – an excellent viewpoint over Caenlochan Glen and out Glen Isla.
Monega Hill:

Spotted one of the crazier looking stalker's paths I've ever seen heading up the N side of Monega Hill. That's one that immediately goes on the "to do" list!

Glas Maol from Druim Mor:

It was only early afternoon…..but having reached Druim Mor we reckoned it was likely to be a better pitch site than Mayar's summit. So we downed tools and decided to chill out and appreciate the weather and the views.
Pitched about 100m east of Druim Mor summit close to the view.

Down Glen Isla and out to Fife and the Lothians:

The Caderg stalker's path from Glen Isla onto Druim Mor:

Monega Hill and hummocky terrain:

Dossed around and watched the world go by – heard a couple of walkers visit the top of Druim Mor but saw no-one. Listened to some enthusiastic meadow pipits singing. A great sound of spring.
The last of the sun was just before 2000.

The antisolar shadow began to lift to the east:

Back to the tent for an hour before popping out to catch moonrise over Dreish. A big, red moon – waning gibbous.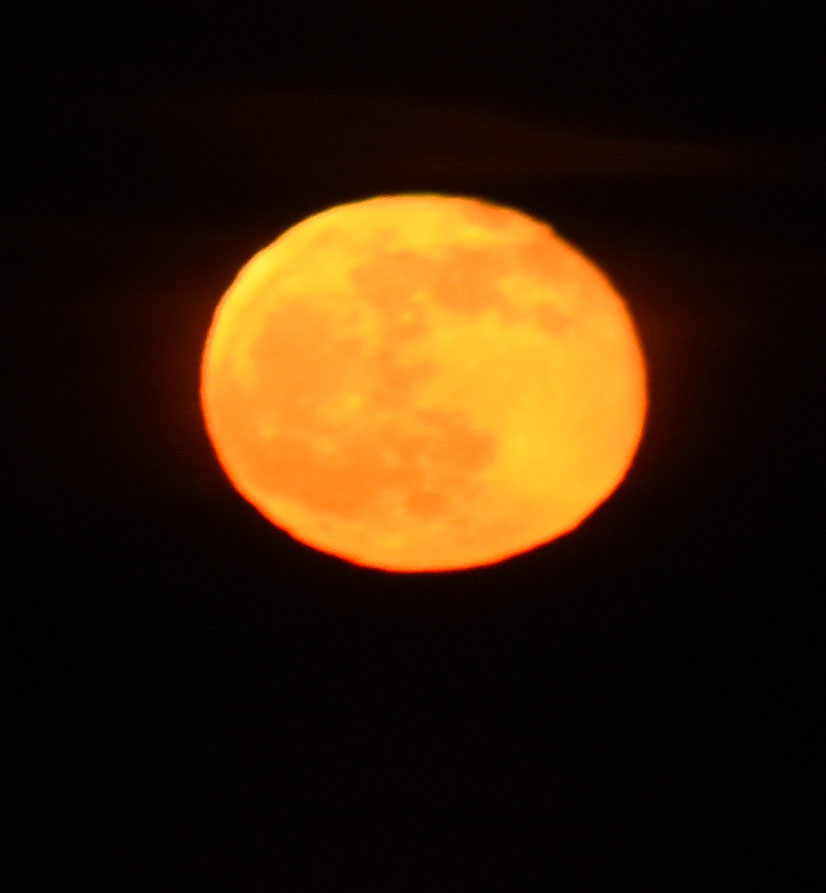 Tried a few night shots – light pollution and much habitation to the south (Perth and Edinburgh visible).

Moon and a few lights of Arbroath:

Quite a view – almost as many sodium lights on view as our summit camp on Arran. Spotted Fife Ness lighthouse too.
Headed to bed, a peaceful still night with occasional ptarmigan calls. Got up at 0100 to full moonlight. It's always vaguely surprising how much light the moon casts when your vision is dark adapted. Not well appreciated from an artificially lit modern lifestyle.
Back up at 0610 to catch sunrise. The moon was still up over Glas Maol:

Sunrise over Mount Battock:

Sadly the foggy low level inversion was confined to the Lothians and south Fife. We could see Tinto over Mount Blair that looked like it might be sticking out of fog:

Lomond Hills:

Lochnagar:

Had a very leisurely breakfast and tent strike. Why hurry?
The sound of singing pipits was briefly counterpointed by the sound of a motorcycling buffoon on a road machine so loud it could easily be heard over several miles and intervening hills. If wishes come true said buffoon currently has a plague of boils.
Decided to descend via the Caderg stalker's path – on the "to do" list since spotted a while back.
Skirted the allt draining depression E of Druim Mor to pick up the high point at the separation of Canness and Caenlochan. Nice view of the path and Glen Isla:

Canness Glen remains a bit off view:

The path appears a little down from the lip, no marking cairn that I could see. Not hard to pick up though.

The goose migration is in full swing. We'd watched squadrons of them flying up Glen Isla and then circling for height in Caenlochan, before continuing N over the high ground.

Also overflown by a Goldie – on the lookout for hares most likely:

The path is excellent, although it seems to vanish at the flatter area around 640m, that matters little as what remains is simple walking.
Once near the glen floor the view up Canness Glen opens up:

The ridge just east of the stalkers path would work as an ascent/descent route:

Nearing the glen floor:

Had a break and some food at the ruin at the glen floor – warm and sunny. Then headed back the remaining 7km or so back to the car, enjoying the dwindling views of Canness Glen.

The roadside pools were full of frogs:

Canness Glen:

Curlews and oystercatchers were escorting us back down the glen with a few unseen snipe calling.
Spotted a few toads too:

Back to the car by early afternoon – our pitch site just visible back up the glen.

Even by our low standards a pretty lazy one…..but very enjoyable and relaxing.
A nice descent via Caderg takes one off the "to do" list……while the Monega Hill zig-zags go straight onto the list for a future walk.