Date: Saturday 2nd May 2015
Distance: 19km
Ascent: 900m
A public holiday weekend – much swithering over the forecast. Left Inverness at 0630 with options on walks from Ullapool to Achnashellach. Options narrowed by turning left for Achnasheen, further by turning right for Kinlochewe, further by turning left into Glen Torridon.
Down to our last 5 or 6 options we parked at the Ling Hut to have a think. Decided to have a middle ground wander over Seana Mheallan and beyond. A rehash of a route we've walked before.
Booted up and headed past the Ling Hut – great view of Liathach.
Liathach from the Ling Hut:

Just past the waterfall at NG 956 560 we crossed the allt and headed up the east ridge of Seana Mheallan. Tried to stick to the north crest of the ridge to enjoy the towering presence of Liathach.
Liathach from Seana Mheallan ascent:

Many lochans on this hill – nice camping territory. Torridon peaks were snowy for May.
Maol Chean-dearg and lochan:

Views develop east down Glen Torridon.
Glen Torridon from Seana Mheallan:

A leisurely wander along the ridge enjoying the views of the spectacular Torridonian landscape.
Sgorr Ruadh from Seana Mheallan:

Loch Torridon from Seana Mheallan: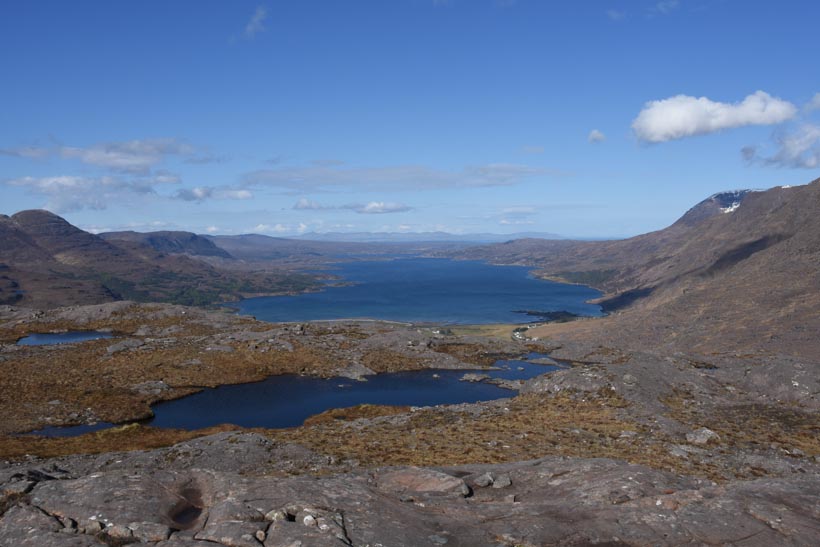 Liathach over summit lochan:

Maol Chean-dearg:

Liathach and Beinn Eighe:

Sgorr Ruadh, Beinn Liath Mhor and Sgor nan Lochan Uaine

Sat for an hour on the summit, tucked out of the easterly breeze behind a crag. One of our favourite bits of Scotland around us.
Dropped of the summit in a southerly direction to Strath nam Poll Dubh. Easy ground with some interesting Torridonian sandstone bluffs and tables.
Crossed the Abhain Thrail easily – microspikes were useful on the slippy rocks, if for nothing else on the day.
Headed up south-west towards Loch an Uiltt-bheithe on uneven ground. Not the best walking in Torridon but not too bad.
Once at the lochs we are near the Annat to Loch an Eoin track we've visited a few times. Great views back to Liathach and Alligin.
Mullach an Rathain and Tom na Gruagaich:

Headed for Loch an Eoin – a couple of Mountain bikers passed by.
Then several more passed by.
Then several more passed by.
Maol Chean-dearg over Loch an Eoin:

Sat and had another bite to eat on the shore of Loch an Eoin.
Still a fine place to enjoy the view.
Beinn Damh and Beinn na h-Eaglaise over Loch an Eoin:

Rejoined the track and crossed Bealach na Lice, toyed with crossing over Meall Deag but stuck to the path round to Bealach Ban for faster progress. Only a few MTBs passed.
Nice views back to Maol-Chean-dearg – one of the few hills in the area we've only visited once.
Maol Chean-dearg from Bealach Ban:

At Bealach Ban we decided to divert onto the nice looking sandstone ridge of Creag na h-Airigh Fraoich which looked like nice walking terrain and with the potential for good views.
A very nice little ridge as it turns out – good camping potential and a vista that probably beats Seana Mheallan.
Harris with Tarbert and Clisham looked within touching distance past Skye.
Tarbert and Clisham from Creag na h-Airigh Fraoich:

The torridon gems were in their display case.
Sgorr Ruadh and Beinn Liath Mor from Creag na h-Airigh Fraoich:

Sgurr Dubh from Creag na h-Airigh Fraoich:

Dropped off the ridge to pick up the Ling Hut track. Beer was calling and we made quick progress down the track. Liathach looms.
Liathach from return to Ling Hut:

Back to the car we only needed a short drive, before a visit to the Torridon Inn for a couple of pints and a meal. Great to revisit Torridon.