Date: Wednesday – Friday 3rd-5th June 2015
Distance: 17 + 6.5 + 15.6km
Ascent: 750 + 160 + 700m
Amongst a couple of late storms and a lot of ferry disruption Calmac had seen us proud and we'd got back from South Uist to Oban and then been delivered to Islay. A quick hop had us back to Jura on the Tuesday and a room at the Jura Hotel .
Out after breakfast heading to the north end of Jura to continue our exploration of the NW coast, this time looking to see the coast around Corpach Bay and Shian Bay.
Stopped near Evans' Walk to watch a male and female Hen harrier hunting – got a few blurry photos of the female.
The Paps were wearing a hat as we carried on up the road to Ardlussa.
Paps of Jura with a hat:

Easy parking off the Fishing Loch track and on with the camping packs. The last shower of the day passed us before leaving the car.
Still cool – but lots of swallows and starlings filling the soundscape with early summer noises.
The Fishing loch has a nice view to Cruach Ionastaill.
Fishing Loch to Cruach Ionastaill:

Tracks marked on the 1:25000 OS for Jura are just ATV tracks – but are often fine to follow. The terrain south of Ben Garrisdale seems quite decent compared to the rougher, tussocky stuff of the northern tip.
Reasonable progress into Glen Grundale approaching Beinn Bhreac. Cut up onto Cnoc tigh-sealga on the approach to Beinn Bhreac.
K heading to Beinn Bhreac:

We had planned on heading over Beinn Bhreac to Corpach Bay however Hazel suggested crossing Beinn Bhreac and Dubh Bheinn on what was to be the better day and finishing at Shian bay. Seemed a good plan.
Dropped the camping packs near Loch Tigh Sealga and wandered to the top of Beinn Bhreac. This had views north to Ben Garrisdale and Scarba.
North to Ben Garrisdale:

Beinn Bhreac view to Scarba:

The day was improving and we wandered over pretty easy terrain back to the packs and then on up to Dubh Bheinn. Quite an easy pair of S2k hills for this part of the world.
The whole of north Jura seems to be corrugated with rock bands.
Beinn Bhreac from Dubh Bheinn ascent:

Lochans below Dubh Bheinn summit:

At the summit of Dubh Bheinn there were great views south over the Rainbergs and on to the Paps. The Rainbergs are on the agenda for the next trip.
Rainbergs and Paps:

Mull is not too far away.
Mull from Dubh Bheinn:

From Dubh Bheinn we continued on down over Mi Mheall Beag and Mi Mheall Dubh towards Shian Bay – a really fine grassy terrain for walking.
One eagle flew away towards the rainbergs –not clear if a Golden or Sea eagle.
A few smaller wild things were distracting.
Common Lizard:

Finally a pleasant and warm day after 11 days of Baltic winds and showers/rain.
Grassy descent to Shian Bay:

This side of Jura is replete with old raised beaches.
Raised beach and Paps:

There are large numbers of red deer and feral goats.
Feral goats:

Raised beach and Ben More:

Raised beach and Paps:

Sat at the north end of Shian Bay and enjoyed warm sunshine for an hour or so. The seaweedwas exposed and there were yellowhammers and Reed buntings picking food off the vegetation.
Yellowhammers on seaweed:

The thrift was out here – a few week behind schedule in most places due to the chilled spring.
Thrift:

Just offshore there were other creatures enjoying the warmth.
Seal sunbathing:

Eider and chicks:


Eventually wandered round Shian Bay.
Shian Bay:

The allt in the middle was too deep for dry boots – headed upstream to the waterfall but no safe crossing emerged.
Waterfall:

Went back to the mouth of the allt and waded across on sand and small rocks.
Wading the allt:

Set up the tent on a flat pitch at the south end of the bay. Time to relax in the sun, if only every day had been like this one.
Scarp at Shian:

Explored the surrounds and listened to the yellowhammer male singing.
Arch:

Scarp and Shian Bay:

There was a decent sunset too – the only one of the entire 2 weeks.
Shian Bay sunset:

Sunset over Colonsay:

Mull:

Rocks at sunset:

Sunset:

Off to bed – a peaceful night with only a bit of a breeze. Up at 0100 – still bright with lights on Colonsay and Mull to be seen.
Got up early as the forecast (strong data signal from Colonsay) had suggested that rain would set in about noon.
Rather irritated to find that 2 of the 3 water bladders had been punctured through by a rodent (?rat) overnight. Bodged up a running repair. Thankfully the food was in a bag inside the tent and no more expensive damage had occurred.
Got going at 0700 to head up on a short wander to Corpach Bay.
Leaving Shian Bay:

Took a hands in pocket approach and slowly wended our way north looking at the scenery. The day became progressively greyer.
Stony beach N of Shian Bay:

There are many groups of goats.
Feral goats:

Rocky coast:

Waterfall:

Some interesting geology – this rock dyke looked fascinating.
Dyke formation:

Corpach Bay is at the north end of a section of coast with multiple grassy areas and a few caves. Many potential pitch sites.
Corpach Bay:

Large arch/cave:

We plonked the tent down at the north end of Corpach bay as the rain started to fall – an early finish at just about noon.
Scarp at Corpach:

Just sat around and watched the world go by. Hazel wandered round the bay and I snoozed for much of the afternoon.
Corpach waterfall:

Sci-fi cloud:

Scarp at Corpach:

Bluebells: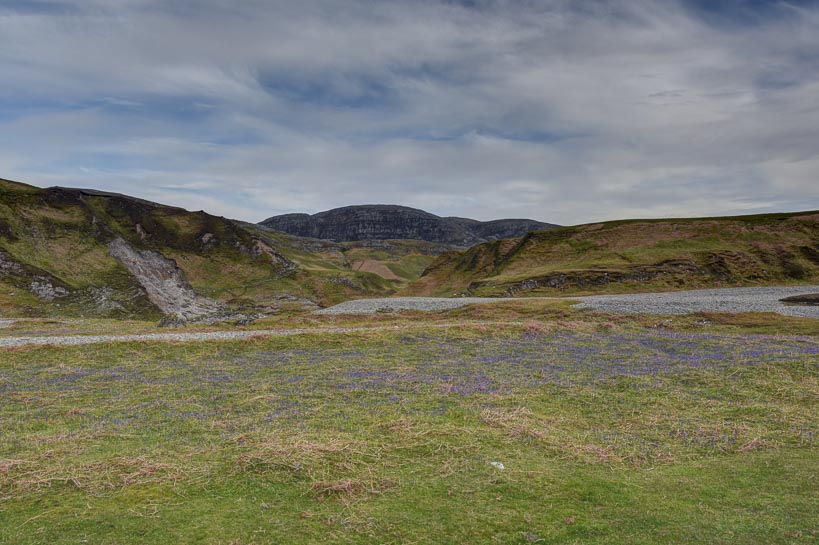 Quite a windy evening and fairly solid rain overnight saw us strike the tent to walk back over between Beinn Bhreac and Dubh Bheinn.
A good choice to go over the hills on Wednesday as visibility was zilch for most of the return.
As we got back to the car the clouds began to lift so we drove down to Tarbert and took the opportunity in the sun to get out and dry off with a walk up Cnoc an Ime.
Parked at NR 605 819 and took the track which is marked on the OS 1:25000 up the hill to quite close to the summit.
The day had cleared better than expected (indeed we might have been better advised to walk out from Corpach the day before and get something bigger done on Friday….but hey-ho).
No major route issues – follow the track up and down, a quick wee walk.
Ascending Cnoc an Ime:

Loch Tarbert:

Loch Losguinn:

From the summit there's quite nice views of Loch Tarbert, Craighouse, the Paps, Arran and even south to Northern Ireland.
Clach an Roinn

Loch Tarbert and the Paps:

Mull of Kintyre:

Arran:

Paps of Jura:

Sat for a short spell and then headed down – once again the overnight forecast was for 35mph south westerlies and we wanted to get the tent tucked in at the Jura Hotel.
Descending Cnoc an Ime:

Pitched both tents at the Hotel (now £5 for a 2 person) and allowed the Scarp to dry out. A welcome shower and a change of clothes had us relaxing.
The tents out to dry:

My kind of campsite:

A fine meal (Venison stew with Chilli and chocolate….smashing), a few beers and a well-sheltered pitch site.
Back to Islay on the Saturday and approaching the end of an Outer and Inner Hebrides fortnight. Felt more like a month to be honest.